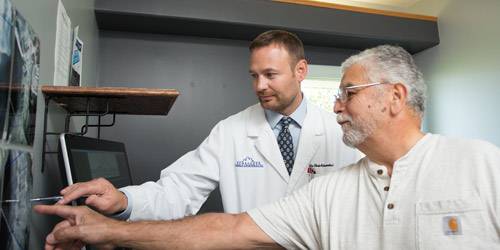 WE TREAT THE WHOLE BODY SO YOU CAN HAVE A WHOLE LIFE
Schroeder Family Wellness Clinic
Chiropractor Hutchinson KS
Welcome to Schroeder Family Wellness Clinic located at 421 East 30th Avenue in Hutchinson, KS. We understand that choosing a chiropractor is a big decision. This article will help you learn the basics of chiropractic care. Please don't hesitate to contact our Hutchinson chiropractors with any further questions you have. We are here to help you achieve your goals.
Dr. Chris Schroeder provides care with clinical excellence, in Hutchinson. Our team is here to help.
Don't take our word for it, hear what our patients have had to say about the care we provide.
Schroeder Family Wellness Clinic
YOUR COMPLETE INTEGRATIVE MEDICAL PLAN
Most people believe that chiropractors treat back pain. That is true, but there is so much more that chiropractic care can achieve. Because chiropractors help to remove pressure from the nervous system, they can also influence many other conditions. It is common to hear chiropractic patients say that they came in for back pain and their headaches got better.
You receive a comprehensive initial consultation

Examination is performed, and diagnostic/lab test are ordered

Health care team meets to develop your customized plan

Exam and test results are reviewed, and plan recommended

A natural and conservative approach is taken

You enjoy a healthy, high-quality life
Schroeder Family Wellness Clinic
I am Dr. Chris Schroeder, D.C. and I was born and raised in the Hutchinson area. I was introduced to chiropractic at a young age and quickly learned the importance of how it can help entire families with all types of health issues. I decided I wanted to become a chiropractor in Hutchinson to continue the legacy of helping people with natural, non-invasive methods giving them an alternative to drugs and surgery. I personally found how chiropractic could help me after a 30-40 mph rear-end accident I had at the age of 14. I started getting migraine headaches that were completely debilitating. It took some very complex chiropractic correction of my posture to stop them and that really directed me into the type of doctor I would become.
We hope that you will allow our office to show you the caring and healing focus that we have worked so hard to achieve. We know you will see the difference!
CHIROPRACTIC EXPLAINED
If you are looking for an explanation of how chiropractic care works this paragraph is for you. A concise scientific explanation of chiropractic is that adjustments directly affect muscle and bone structures by reducing pain and increasing joint motion.
That's a lot to take in, but it is the explanation as to why some chiropractic patients in Hutchinson report improvement in body function. This is not a claim that chiropractic adjustments treat disease, but it does suggest that some people will see improvements in conditions that are outside of the treatment area.
Services We Offer
Our practice focuses on correcting posture through methods of chiropractic biophysics.  We work on correcting the problem, then retraining the muscles to stabilize and hold the correction. 
This has proven to be life-changing for many people. 
At our Wellness office in Hutchinson, we also offer:
Pediatric Care
Vitamin Infusion
Regenerative Therapy
Conditions We Treat
We treat all kinds of conditions from headaches to sports injuries, sciatica, disc problems, neck and back pain along with postural issues.
Our primary focus is to focus on healing over feeling.  While only 10% of our nervous system controls pain, we want to make sure that 100% is working, not just 10%.  This is how we achieve, not just pain relief, but lasting optimal healing in the body with optimal nervous system communication. 
Is chiropractic the right treatment for you? Call our team at Schroeder Family Wellness Clinic in Hutchinson. We will do our best to help you reach your goals.